Please allow me to introduce you to a wonderful local dyslexic who is to me a real inspiration, and an amazing role model for local young dyslexics. I have had the absolute honor of knowing this young lady since she was abo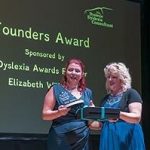 ut 8 years old. She was the inspiration for the Dyslexia Awards Shining Star awards. Knowing that there are youngsters out there who work their socks off to help others, and who, despite having to literally battle through a treacherous educaiton, still have a smile on their face, joy in their heart,  the power to shine bright, empower others and still go on to achieve great things! Once you meet this young lady you understand instantly why she was the precipitant of the prestigious 2016 Dyslexia Awards Founders Award!
Name: Katie Mckeown
Age (optional): 29
Job Title or/and Business name:  Office Manager
A brief description of your job role/business: I am a manager of a small team for a family run workwear company.  My job is to assist my team to ensure that all customers have great experience and are happy with the products they purchase from ourselves.
Location: Telford, Shropshire.
When did you find out you were dyslexic & how old were you? We found out when I was about 8 years old
How did you feel when you found out you were dyslexic? It was all a little bit of a whirl wind at the start I didn't really know how to take it I just knew I was different.
What difference has finding out, made to your life? For me finding out has been more of a positive experience, I have surrounded myself with extra support and very supportive friends and family, it also helps to know how many famous people are Dyslexic.
What have you gone on to achieve since being diagnosed? I am very lucky and achieved a lot, I know I am only 29 but I work really hard and in my work I have become a manager in customer service, I have managed a care agency, support over 20 children tutoring one to one children in their own home.
What advice would you offer to other dyslexics? If your struggling do not be afraid to speak up. Remember to take time for yourself and if you go in to over load its ok just find your way to relax.
What do you do to relax/hobbies? I love music and going to Yoga, yoga helps me relax and take time for myself.
Your website & business contact details:
Photo: Katie (Left) being presented with the 2016 Dyslexia Awards Founders Award by Dyslexia Awards Founder Elizabeth.